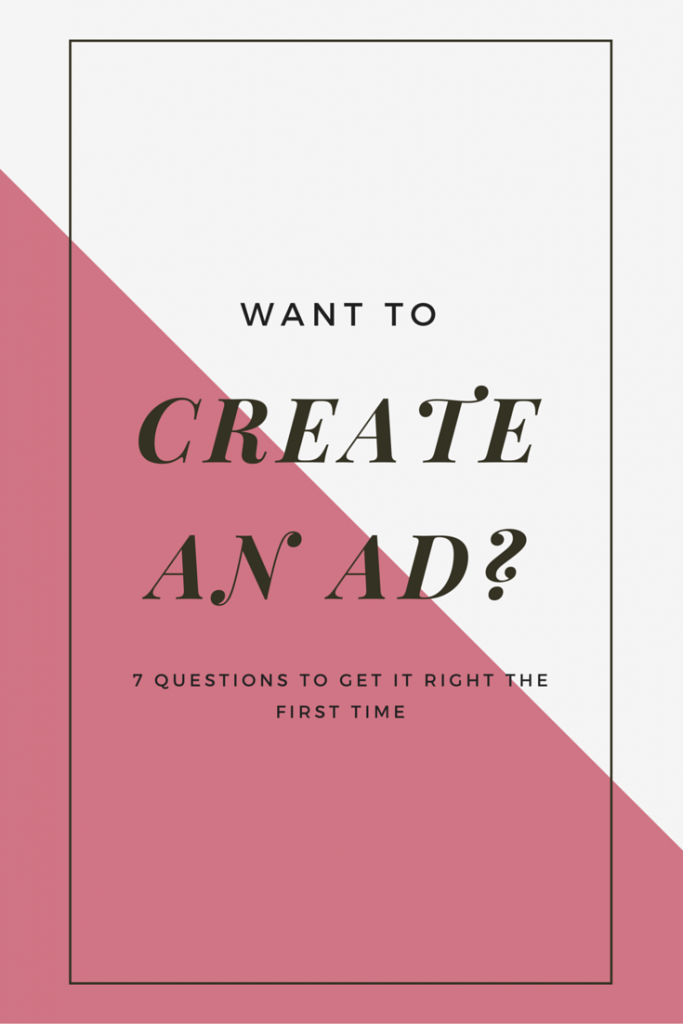 Advertising your business is absolutely necessary. If all the great brands do it (think Coca-Cola®, Apple®, Nike®), you need to do it too. With so much competition for people's attention, there's a need to constantly remind current customers AND potential new ones of what you have to offer.
If you want to create an ad that will have a positive image and ROI, you'll need to do some important upfront thinking on your part. I've seen many small (and large) businesses have to re-work their ads after poor results: expenses that could have been avoided. Grab the 10 page workbook that goes along with this article, then come back here and follow along!
Here are 7 questions to answer as you prepare your message and then create an ad:
1. THE GOAL: What do I want this ad to achieve? For example, is it to promote a new product/service/capability? Is it to introduce a special promotion? Is it to announce a new location?
2. THE TARGET: Who do I want to talk to? Am I targeting current customers, new prospects, a specific demographic or geography?
3. THE MESSAGE: What is the single message that I want to get across? Am I stating the benefit my solution provides from the customer's point of view? Am I clear why my solution is better than what competitors offer?
4. THE PROOF: Do I have photos, videos, demos, guides, white papers or customer success stories to give more credibility to my message?
5. CALL TO ACTION: Is there an incentive offer? Do I have a unique URL to enable me to do better tracking of responses?
6. HOW TO BUY: Is it clear how and when interested people can reach me or buy from me?
7. CUSTOMER EXPERIENCE: Am I staffed up and have trained my sales channel to handle the response?
Once you have a draft of your ad, test it out with some friends. Ask them what the ad is saying. Do they understand what you're selling and why you're a good choice versus the competition? Creating an ad is usually a fun experience, allowing you to rev up your creativity. By having a good strategy upfront you are well on your way to having a memorable and revenue yielding campaign.
Do you have any additional insights on how to create an ad to share with us?
Workbook: Want to Create an Ad?​
If you want to create an ad that will have a positive image and ROI, you'll need to do some important upfront thinking!
Miriam Vializ-Briggs is a marketing consultant with 25+ years of marketing strategy and execution experience, garnered as an executive at IBM, American Express and Kraft General Foods. She has created solutions and marketing strategies in a number of industries including banking, biotech, packaged goods, energy, healthcare, industrial, insurance, restaurants, retail, and travel & entertainment.